As you may recall, we grown our
own potatoes
. And when you grow and store a couple hundred pounds of potatoes, you need to eat them. One of my favorite potato recipes is simple hash browns.
I have made hash browns in a number of different ways and have found baking them in the oven to be the absolutely best way to make them.
You will need:
1 to 1.5 pounds of potatoes
1/4 cup onion, minced
Small amount of olive oil or cooking spray (see my cooking spray note below)
Salt and pepper to taste
Optional:
1/4 cup shredded cheese
1 tsp paprika or other seasoning
Preheat the oven to 375 degrees.
Wash, peel and shred the potatoes. You can use a cheese grater or a mandolin. You can also use pre-shredded, fresh or frozen, potatoes. However, look at the ingredients on that prepackaged shredded potato sometime. Yuck! It is only an extra 10 minutes of your day to shred your own potatoes. Take the time and do it yourself.
Once shredded, squeeze the potatoes to drain off some of their liquid. You can use a fine mesh strainer and push the potatoes down against the mesh. You can also gather up the potato shreds a handful at a time in some paper towels and squeeze. I like the paper towel method. A clean tea towel also works great and you just toss it in the wash rather than toss it in the trash when you are done. Either way do it over the sink because there will be a lot of dripping. The drier the potato the better they will crisp on the outside. Wet potatoes steam while cooking giving you more of a baked potato texture which is fine but not what we are aiming for here.
In a bowl, mix the potatoes, minced onion, salt (and pepper which my daughter will not eat so I leave it out), and cheese if you are using it. We love the cheese. I used cheddar in these pictures. Gruyere works great too.
I think the best method for cooking is to spread parchment paper on a cookie sheet. Spray the parchment paper with a little oil. You could also use a basting brush and brush a thin layer of oil on the parchment paper. The oil helps the potatoes brown nicely.
Here is my cooking spray note. Don't buy it. It is a toxic mess. Instead get a refillable oil spray bottle like my Mr. Mister Oil Sprayer (you can buy it on Amazon). This little baby is awesome. Fill it part way with olive oil then pump the top a few times to create pressure. Take off the top and push down on the nozzle to spray the oil just like a can of Pam without the chemical mess needed to make that Pam can spray.
Scoop about 1/3 cup of the potato mixture onto the parchment paper at a time and form into little potato patties. The space between the patties helps the potatoes cook faster. It also makes turning them over to cook both sides easier.
Put the cookie sheet into the oven and cook for about 20 minutes.
After cooking for 20 minutes before being flipped
Flip each hash brown over, return to the oven and cook another 15 minutes or until done. Your oven may take more or less time. You want golden brown, but not burned, on both sides.
Remove the hash browns from the parchment paper and either serve right away or put on a rack to cool.
These hash browns freeze great! Once cool, put a piece of wax paper between the hash browns and store in a ziptop bag in the freezer. You can warm them up in an oven or on the stove top. Yes, you can use the microwave too, but try not to when you can avoid it. The microwave destroys nutrients in the food. And food should be about both nutrition and enjoyment.
Don't forget to follow me on
Facebook
and
Pinterest
.
Most viewed on:
Featured on: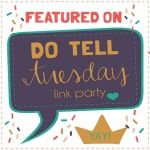 Shared with:
Inspiration Monday; Clever Chicks Blog Hop; Marvelous Mondays; Craft-O-Maniac Monday Link Up; This Momma's Meandering Monday; The Scoop; From The Farm Blog Hop; Pin It Monday; Do Tell Tuesday; Tuesdays with a Twist; hare It Link Party; Tasty Tuesday; Wonderful Wednesday; Create It Thursday; Show Off Your Stuff Party; Blog Strut Owl Style; Craft Frenzy Friday; Tickled Pink; Friday Food Frenzy; Pin It Link Party; Show Off Weekend Party; Snickerdoodle Sunday; Let's Get Real Blog Hop;
In and Out of the Kitchen Link Party