Look what I made. These paper flowers are so simple and pretty.
You will need card stock, glue, water in a spray bottle, and a way to cut out paper flower shapes in two or three different sizes. I used my Silhouette but paper punches, or good old fashioned scissors will work just fine.
I created flower shapes on my Silhouette. I made two different 5 petal flowers, a 6 petal flower and an 8 petal flower. Each of the different paper flower cut outs gave a slightly different end result. Click Here for the link to my Google Drive for the templates I made in both pdf and studio format.
The difference between the end results were mostly negligible between the 5 and 6 petal cut outs. The 8 petal cut out creates a much fuller flower. The big three color purple flower pictured above was made with three sizes of the 8 petal flower cut outs.
For the blue flowers I cut a 5 petal flower out of three different colors. The dark blue is a 3 inch cut out, the middle blue is a 2 inch cut out, and the smallest is a 1 inch cut out.
Spray each cut out lightly with water then scrunch the cut outs. You want to start by holding the center and forcing the petals up to the middle and then scrunching them together.
Let them dry, or mostly dry. Then carefully open them back up.
Then using craft glue you put the layers together. I used three of each sized cut out. I found the craft glue works better than glue dots because you can twist the cut outs around to give you the best petal layers. With glue dots, once affixed, you cannot move the layers to a better position.
In this picture the yellow flower on the left was made from 5 petal cut outs. The yellow at the bottom of the picture was made from 6 petal cut outs. The large purple flower was made with the 8 petal cut outs.
These flowers will work beautifully on homemade cards and scrapbook pages. My daughter wants to hang them from mono-filament from the ceiling in her room. That would be very spring like in these bleak winter days. These would also look great on a door wreath.
Please follow me on
Facebook
,
Pinterest
, and
Bloglovin
.
Featured on: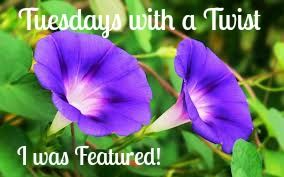 Shared with:
Shared With Marvelous Mondays; Motivation Monday; More the Merrier Monday; Craft O Manic Monday Link Party; This Momma's Meandering Mondays; A Return To Loveliness; Inspire Me Tuesday; The Scoop; Take a Look Tuesday; Pincentive Blog Hop; Tuesdays with a Twist; Do Tell Tuesday; Too Cute Tuesday; Share It Link Party; Homemaking Link Up; Whatever Goes Wednesday; Inspire me Wednesday; Your Whims Wednesday; Wow Me Wednesday; Create It Thursday; Wildly Original Link Party; Pin It Thursday; Thursday Favorite Things Blog Hop; Catch a Glimpse Thursday; Frugal Days Sustainable Ways; Homeacre Hop; Grace at Home; Home and Garden Thursday; Sweet and Simple Friday; The Weekly Creative; Craft Frenzy Friday; Blog Strut Owl Style; Friday Link Party; Fresh Cut Friday; What to Do Weekends; Lovely Crafty Weekend; From the Farm Blog Hop; Farm Girl Friday; Serenity Saturday; Tickled Pink Times Two; Snickerdoodle Sunday